Before we get started
Wow, it's been a while since our last big update from Interview School HQ! Since then, things have been… pretty crazy. The team has grown from a mighty and dynamic duo to eight strong! Now we finally have enough to field our own basketball team (with a small bench). Big, big, big things are coming soon to Interview School but we wanted to share what came out this week, in our much-awaited Interview School 2.0 release.
What's New to Interview School: Everything! 🎉
All-new AI Coach
Boosted Report Cards
Performance Analysis
Job Tracker
AI Coach
We tore down basically the entire technical infrastructure of our old interview review system to usher in the era of our AI Coach. We're very particular about saying "coach" here. It's our daily goal to figure out how to bring our users the best part of an interview coaching experience, but with something they can use on their own time without the crazy costs. We researched the top qualities hiring managers are looking for and figured out how to build an engine to analyze your interviews for them.
Whether you're a week out from your interview at 1:30 am and needing some practice to reduce the stress, or you're in the cab on the way to your final onsite, we hope to build a coach that can be there for you when you need it. We will be working hard behind the scenes to add more qualities that our AI Coach can assess!
New Report Cards
Our users let us have it, "tell us the exact moment where a quality was picked up in our practice interview!", they said. Well, we listened! Welcome "Timelines" to the Report Card. Timelines show you the exact moment in an interview where our AI Coach spotted a key quality in your interview, letting you see the precise timestamp in your answer when something went good or bad.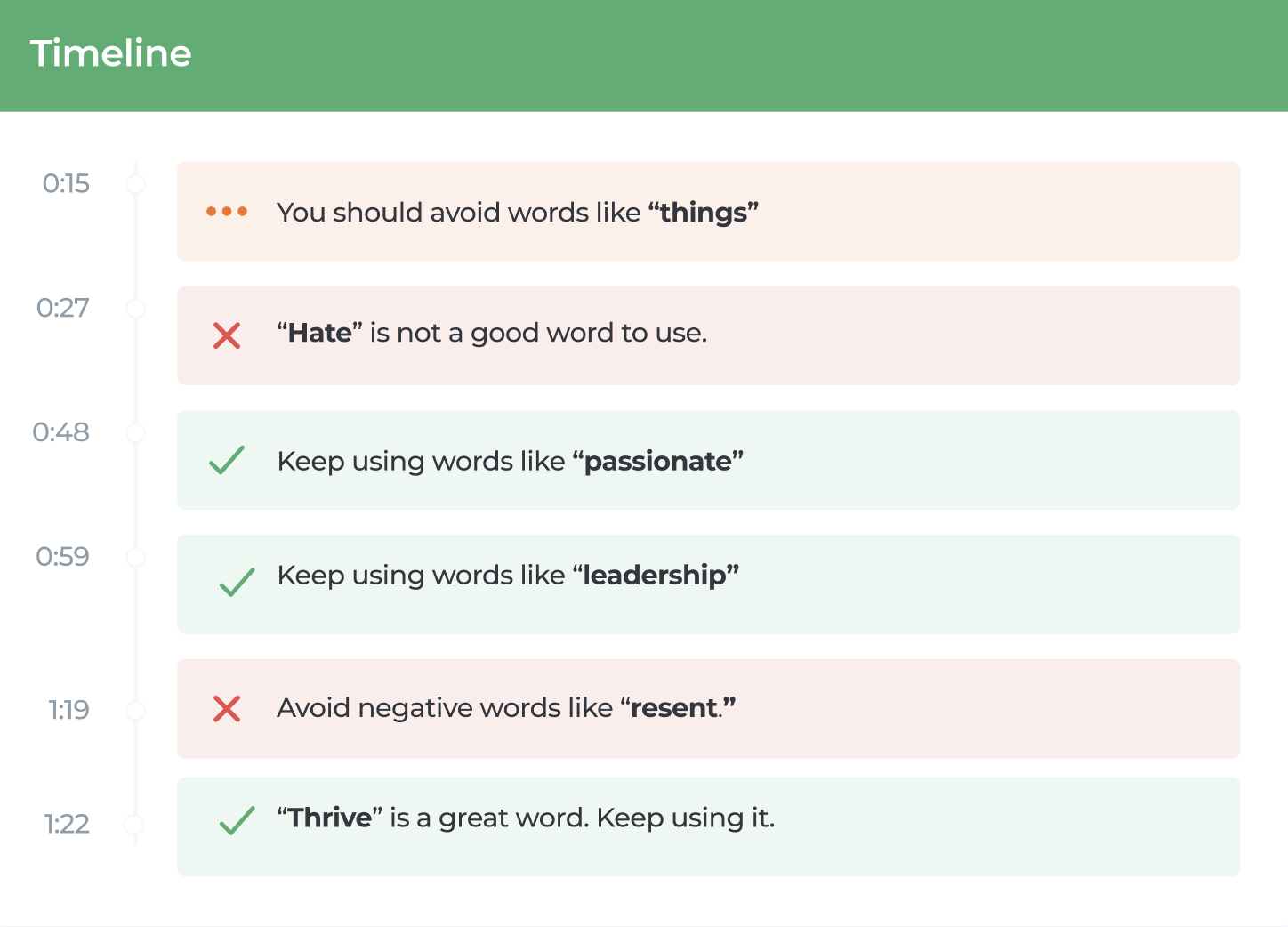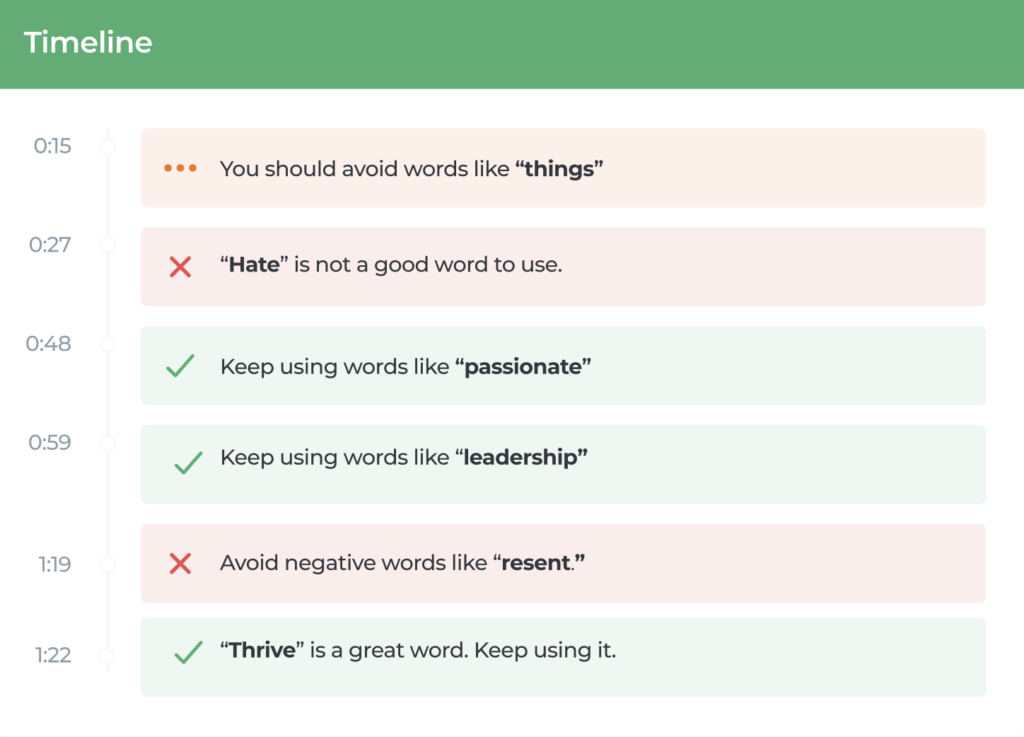 Performance Analysis
Scoring has finally landed in Interview School! By assigning your interview session a performance score, you can now have deep insight into your performance, and perhaps more importantly, your progress. Performance Analysis lives right on your Report Card so you can monitor how you're performing across that particular question set. We want to give you the tools to mine your practice performance for golden nuggets of information!
Simulate your next interview
Prepare for the questions that are really going to be asked in your next interview.
Job Tracker
As we begin to enter our next phase of product development, we want to start really thinking about tools to help our candidates' entire end-to-end job search. The search involves interviewing, learning, and detailed interview feedback, but it also involves finding relevant roles, applying to those opportunities, and tracking which ones were hits or misses in the often hundreds of applications our applicants are applying to. That's where our "Job Tracker" tool comes in! Job Tracker lets you throw away the ugly spreadsheets and focus your time on your search, and not tracking applications. Add new cards in the blink of an eye, then drag-and-drop them as their status changes.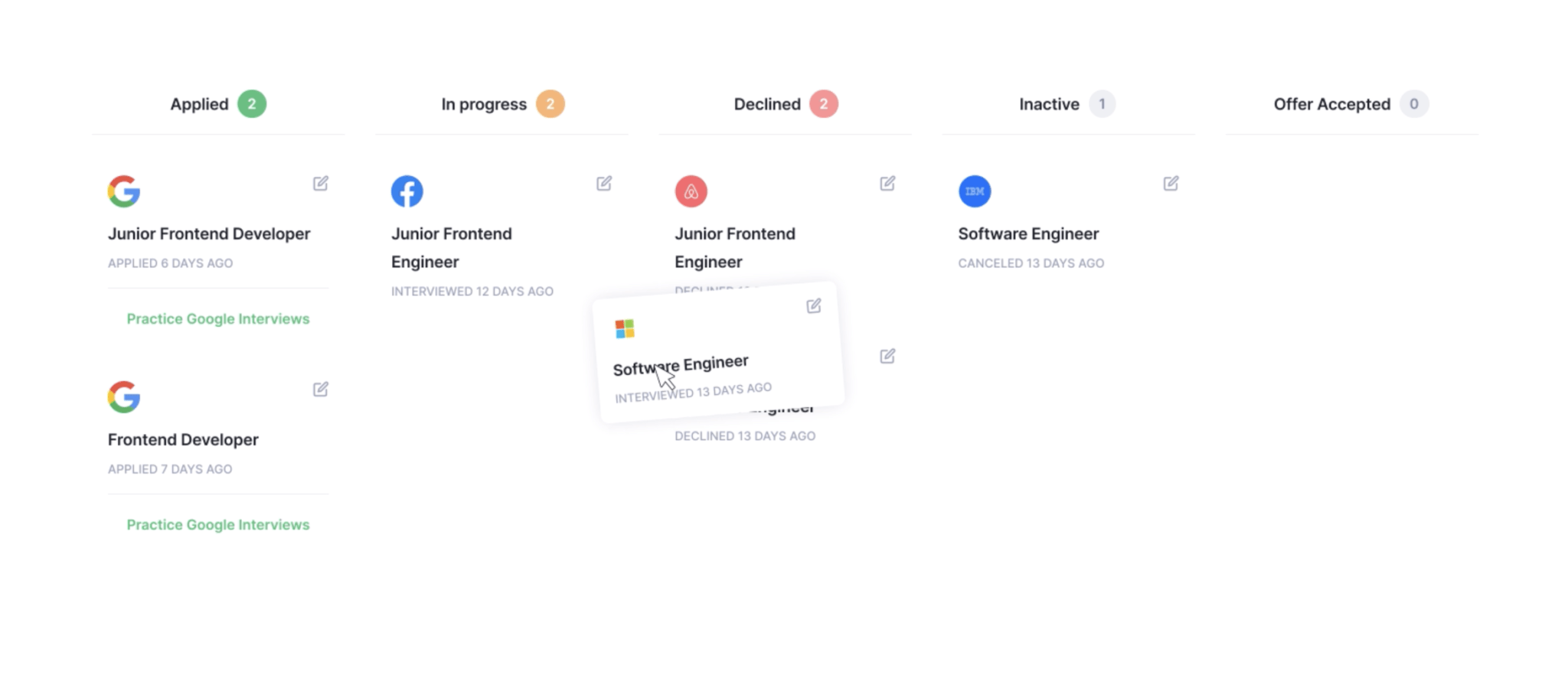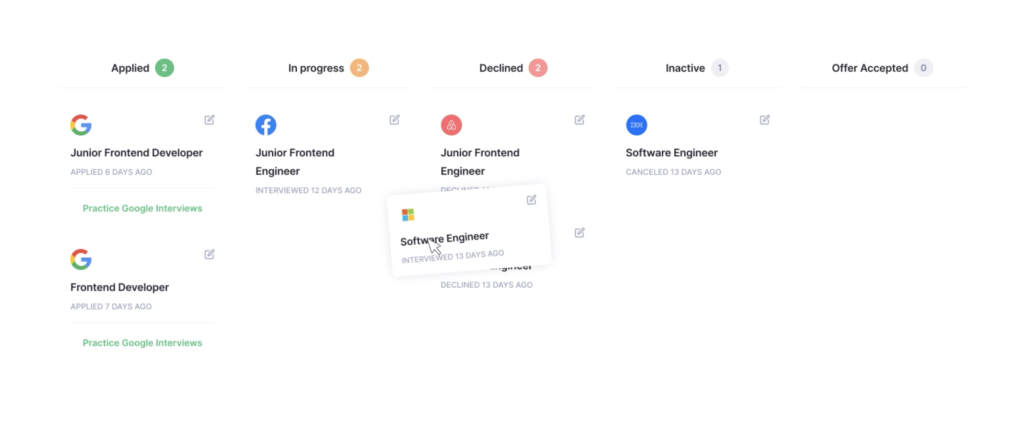 Wrap Up
This is a big release for us as we look to overhaul our entire tech platform to better meet our user's core problems. There is so much cool stuff yet to come as we not only think about how to make our AI Coach deliver much more detailed and tailored feedback, but also as we expand into other areas to really help our users reach their career goals, and reach them quicker.
Start Practicing Interview Questions Now!
According to Glassdoor, every corporate job attracts 250 applicants on average. Gain an edge over these other applicants by learning from previous interviewees.
If you want to leave some feedback about the new release, request a feature, or chat about life, hit us up using the "contact us" link!