The days of arriving 15 minutes early for an interview have changed with new technology. More and more recruiters are using online video interviews to save time, money, and resources. This new approach of interviewing may be more convenient for the candidate and even expedite the hiring process. However, a few issues can arise. Here's everthing you should know for online interview practice.

Tip 1: Test Your Equipment
Because this is not a face to face interview, you will need to use your own technology to participate in the video interview. As a result, you will need a camera and a microphone with a stable Internet connection.

Additionally, if possible, you should download, install, and familiarize yourself with the same video technology that you will use during the real interview. Most companies will use Skype or Zoom to host their meetings. Do not wait to download the video program minutes before your scheduled meeting.

It is recommended to try to do a mock interview using the same video platform a few days before. Make sure that your camera is at eye-level. Avoid pointing your camera up or down, which can cast abnormal shadows and double chins. You want to give the appearance that you are looking straight at the interviewer.

Tip 2: Practice, Practice, Practice
When you go into your online interview, don't let that be the first time you have seen yourself on camera. Practice! Over and over again so you can see how you sound, look, and present to person on the other side of that call.
Simulate your next interview
Prepare for the questions that are really going to be asked in your next interview.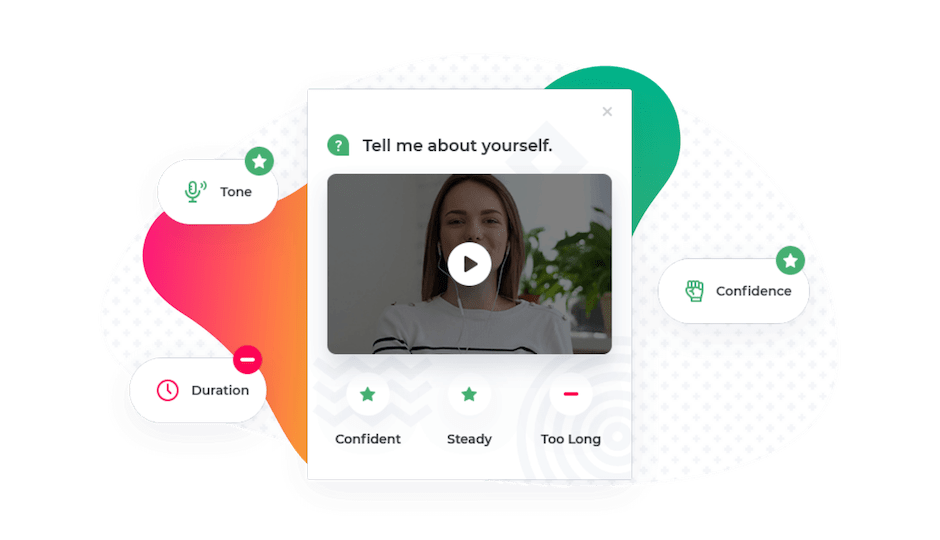 Using a service like Interview School allows you to practice up-to-date interview questions that are being reported by candidates at the top companies across the globe. After taking one of our mock interviews, your answers will be grading by our AI technology and you will receive a report card where you can watch all of your answers. You can also take our mock interviews as many times as you need!
---

---
Tip 3: Setting the Stage
Most people remember to dress appropriately for the job interview. However, they often forget that the hiring manager will also see the candidate's background.

While this is not an assessment of your interior design skills, a cluttered or distracting background can leave a bad impression. No matter how impressive your interview skills are, if you have dirty laundry scattered all across your bedroom floor, you probably won't get the job offer. Ideally, your interview setting will be a plain neutral colored wall or an organized professional office-like environment.

It is not advisable to do video interviews in a public area, such as a coffee shop. You do not have control over the noise level in the background. On a similar note, you should be mindful of when and where you interview in your own home. You wouldn't bring your children to your in-person interview. Likewise, your family members should be aware of when your interview is and avoid appearing on camera.
Wistia has a great article on tips for shooting a great video of yourself. These tips can also be applied to getting your settings right for an upcoming online interview call.
Tip 4: Check Your Lighting
The lighting in your home may not be ideal for illuminating your face on a video call. Job seekers should avoid having a light source above them, such as a ceiling light, so it doesn't cast shadows on their face. Instead, aim to have light coming in front of you so that the interviewer can see you clearly.

Unfortunately, you won't know if the lighting is sufficient until you do a few practice interviews with your camera.

Tip 5: Dress for the Interview
Most of us aren't so overly comfortable that we would wear our pajamas to an online interview. However, just because only the top half of your body will be visible on the camera, it doesn't mean you should forego pants. An interview can be unpredictable; you never know if you will need to stand up. If that situation arises, it will be too late to put on the appropriate articles of clothing during a live interview.

Therefore, always wear your complete interview attire. In other words, if you wear a suit, you should also wear the accompanying pants.

Tip 6: Where to Look
It is incredibly tempting to look at your own image during the video conference. Many of us are checking our facial reactions, confirming the lighting quality, or are merely unaccustomed to seeing ourselves on video.

Try to look directly at the camera instead of your computer screen. This will establish direct eye contact when answering interview questions.

Tip 7: Have Everything You Need in Front of You
Confirm that you have all the documents that you would ordinarily bring on an interview, readily accessible, within arms reach, in front of you at the computer. You do not want to get up to get your resumé or portfolio.

Additionally, be sure to have a pen and paper ready, especially if this is a technical interview. You will be able to write down any important information while maintaining the fluidity of the conversation.

Tip 8: Posture and Body Language
Similar to an in-person interview, sitting up straight maintains a level of professionalism. You can still be relaxed but also demonstrate that you are attentive to the interviewer by having good posture. Don't sit back completely in your chair, but don't lean too far into the webcam.

Position your chair so that the camera shows your upper chest and face. You don't want to be too low on the camera that you look like a floating head.

Your arms and hands may be visible during the interview. Because your image is contained in a rectangle, be mindful that your body language and hand gestures are not too overwhelming or distracting.

Often times, we don't notice our body language because of anxiety or nervousness. The advantage of a video interview is that you can rehearse, prepare and adjust any necessary elements prior to the actual meeting. If your lighting, camera, and chair are optimally positioned, you will be able to reflect and focus on how your body appears through the camera on video. Afterward, you can make adjustments and address any potential nervous habits.

Start Practicing Interview Questions Now!
According to Glassdoor, every corporate job attracts 250 applicants on average. Gain an edge over these other applicants by learning from previous interviewees.
With adequate practice and preparation, you will be confident and comfortable on your next online job interview.