Looking to land a job as a Product Manager at Amazon? Amazon hires product managers across all aspects of their business–it seems there is always opening for Product Managers no matter how much experience you have. But if you're thinking about applying at an Amazon Product Manager, here are some things that you might want to consider:
What does an Amazon Product Manager do?
As Amazon's business is so vast and has so many different products, there are a million different things that a Product Manager at Amazon could be working on. We decided to dig into some Product Manager positions (on February 17th, 2019) and found this one below: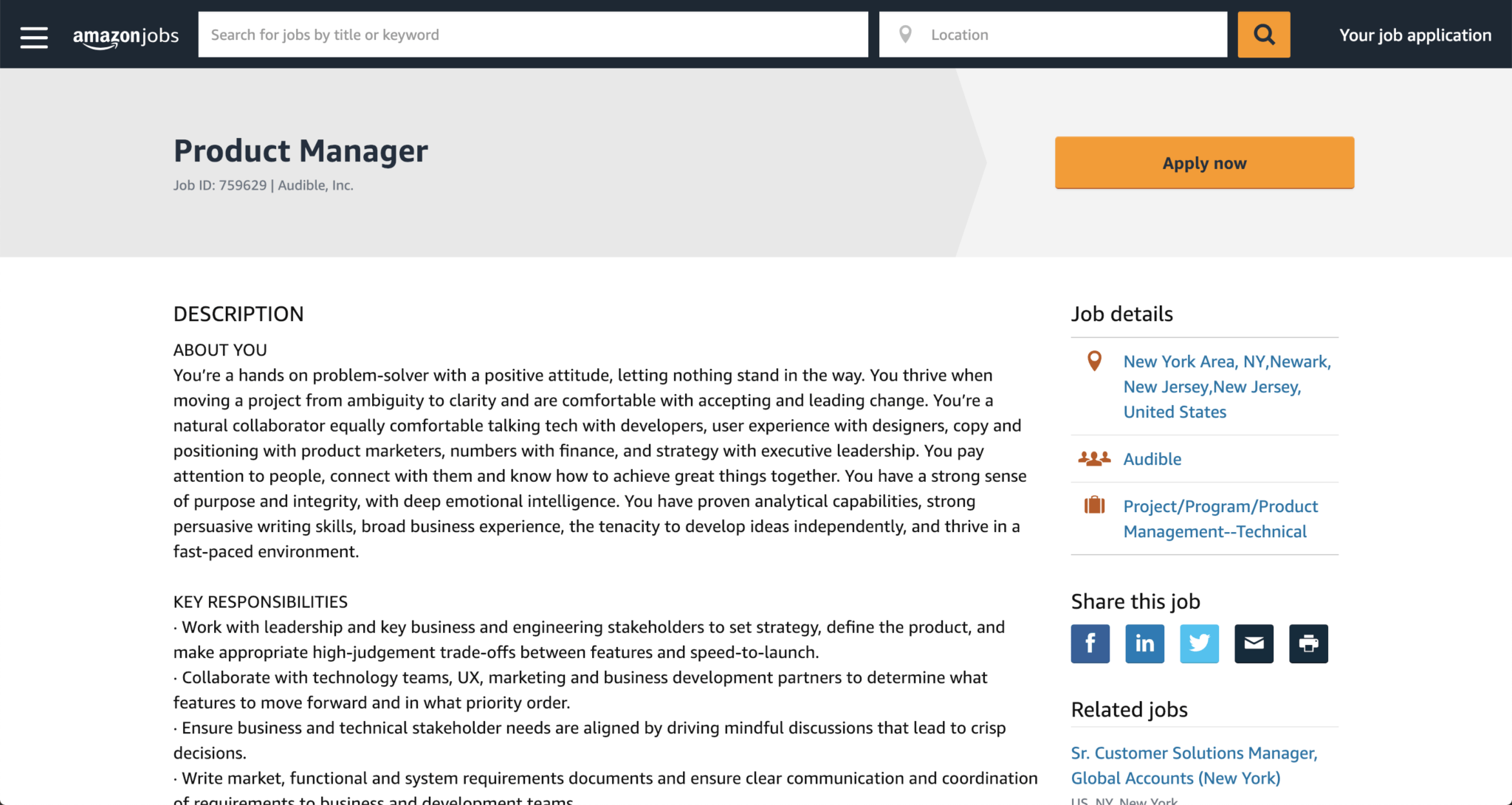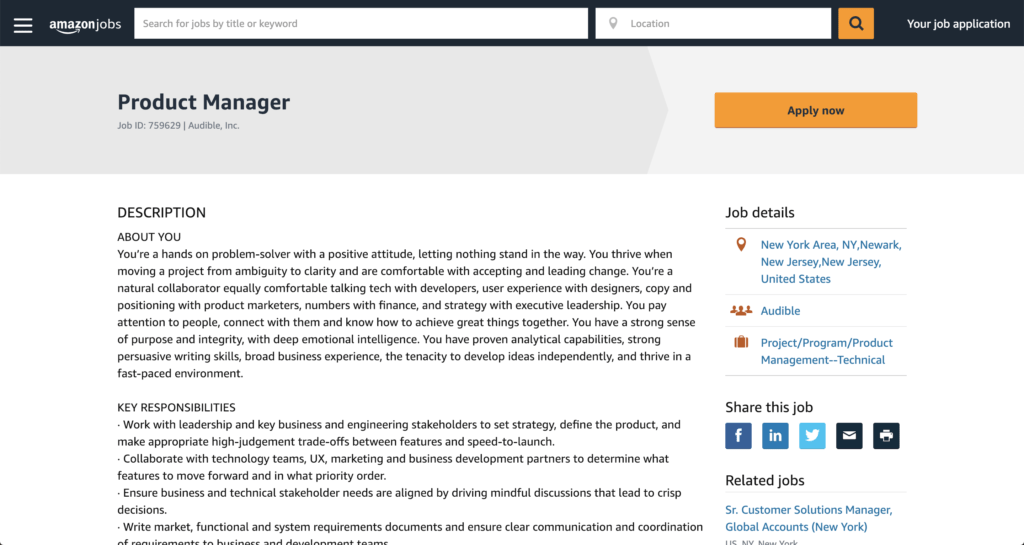 As you can see in the Job Details section, this particular job is focusing on Audible, a product of Amazon. Some of the Key Responsibilities include:

· Work with leadership and key business and engineering stakeholders to set strategy, define the product, and make appropriate high-judgment trade-offs between features and speed-to-launch.
· Collaborate with technology teams, UX, marketing and business development partners to determine what features to move forward and in what priority order.
· Ensure business and technical stakeholder needs are aligned by driving mindful discussions that lead to crisp decisions.
The basic qualifications for this particular role are:

· 4+ years of experience in product management, program management, or technology implementation.
· Bachelor's degree in Computer Science, Computer Engineering or related technical discipline.
· Demonstrated experience in agile.
There are plenty of other Product Manager jobs listed for Amazon, so be sure to browse around all the different options and see which specific product areas of Amazon you would like to work with. Trying determining which products your experience would bring the most value to and then lead off with that position.
Simulate your next interview
Prepare for the questions that are really going to be asked in your next interview.
Tips for becoming an Amazon Product Manager
Product School is a great resource for all things related to Product Management (as well as coding, digital marketing, and data analytics). They offer in-depth courses to train you on becoming a product manager; however, with a starting price tag of almost $4,000, it's pretty expensive. But, they offer plenty of great free resources to help you become a Product Manager at Amazon. In one of their YouTube videos below, they have Neha Monga, Head of Product for global marketplace pricing at Amazon talk about some of her lessons she's learned in her 10+ year career in Product Management. If you're looking to gain some insight into becoming Product Manager at Amazon, what better way to than hear from the actual Head of Product at Amazon?
There's also plenty of content across the internet for other former and current Amazon employees. Current Amazon Product Manager, Darshana Sivakumar, explains in her article 'How I transitioned from being a developer to a product manager at Amazon' how she transitioned from a developer to a PM role at Amazon.

In this article, Darshana stresses that there is no one path to becoming a Product Manager. You don't need a specific degree or background to become a great PM. Some come from a technical background and some come from support. Some have MBAs and some don't.

The important thing to remember is that no matter what your background and education are, you can become a great Product Manager. Darshana also lists some of the things that ARE important when trying to land a Product Manager role at Amazon.
How much does an Amazon Product Manager make?
Just like responsibilities, the salary of a Product Manager at Amazon can vary greatly. There are Intern Product Managers, regular Product Managers, Senior Product Manager, and many other types of Product Managers at Amazon and they all have different pay. Of course, like any position, the salary heavily depends on the amount of experience you have as a Product Manager.

Above, you can see the average pay for a Product Manager at Amazon according to Glassdoor. $62k seems to be the lowest you would be paid and this is most likely an interns salary. Your salary can also top out to around $183k. Also, Amazon, like most big tech companies, offers some amazing benefits; so salary isn't the only thing to consider when considering overall compensation.
How to prep for an Amazon Product Manager interview.
There are plenty of resources across the internet that can help you prepare for interviewing at Amazon for a Product Manager. Here are some different options to consider:
Use Interview School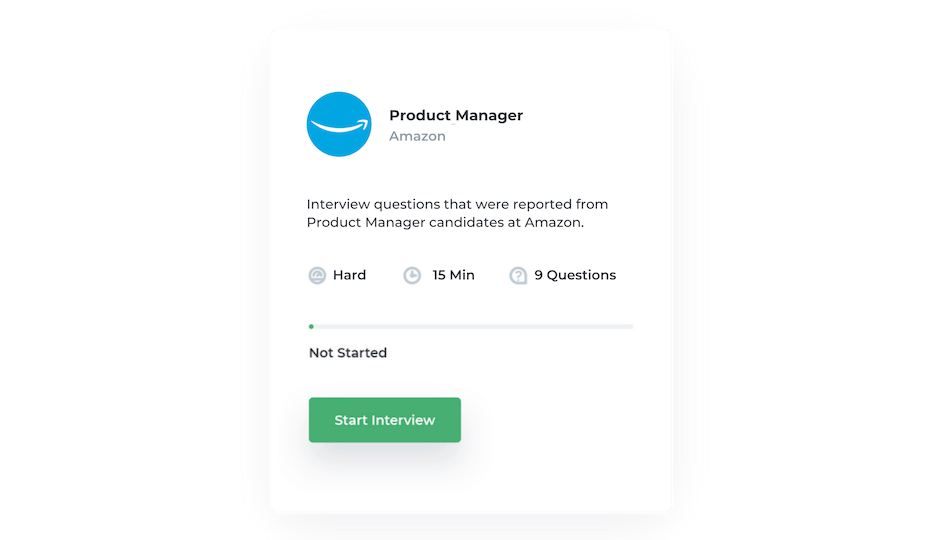 No surprise here! We definitely suggest using Interview School for prepping for your interview as a Product Manager. In fact, we've already created a specific interview for Product Managers at Amazon. All of the questions in this interview were reported by candidates who interviewed for Product Manager at Amazon in the past. While you may not get the same questions word for word in your interview, practicing interview questions from the past gives you valuable insight in the type of questions they ask and what they are looking for exactly.
Get Feedback on your answers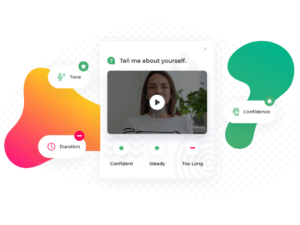 After taking your mock-interview on Interview School, you'll receive instant feedback on your answers. Our AI-software will assess you on your tone, confidence, the number of filler words you use, and other factors. You'll be able to watch video clips of each answer and assess yourself as well.
Take other Product Manager interviews
Aside from Amazon, we also offer plenty of other Product Manager interviews that you can practice taking. Curious as to what PM candidates are getting asked at Facebook, Google, and Apple? We've got those interviews too! You'll find all kinds of STAR interview questions across product manager interviews and it's best to practice as many of them as you can.

You can sign up to Interview School completely for free (no credit card required) and try out a few interviews. If you sign up to our Premium version and don't like it, we'll give you a full refund, no questions asked 🙂
---
Create a free account today:
---
Go through Amazon's Career Site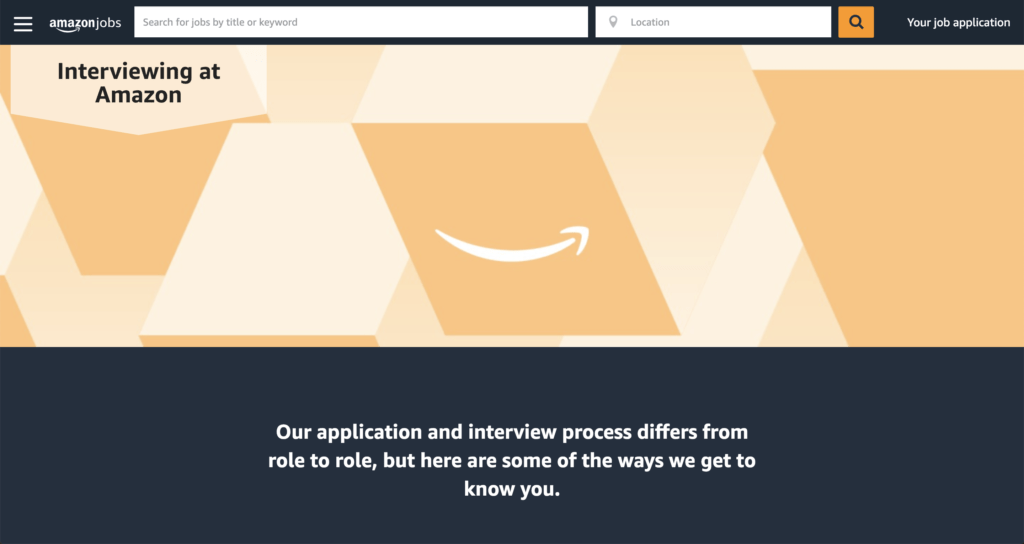 A company's career site should always be one of your first stops when applying to a job. There's no better place to get interview advice than going straight to the source.

Amazon breaks down their interview process into 4 different phases of communication:

Online Application
Assessment
Phone Interview
In-Person Interview
They have an entire section for each phase so you can learn everything there is to know about each one. They also have an About section that they recommend every single candidate read so that they can learn about the company.

On top of that, they have a section where you can "meet" several Amazon employees to get a better feel of what it's like to work there.

Before interviewing with Amazon, be sure to research every page of this website. It's guaranteed to have some of the most relevant information for your upcoming interview.
Search Questions on Glassdoor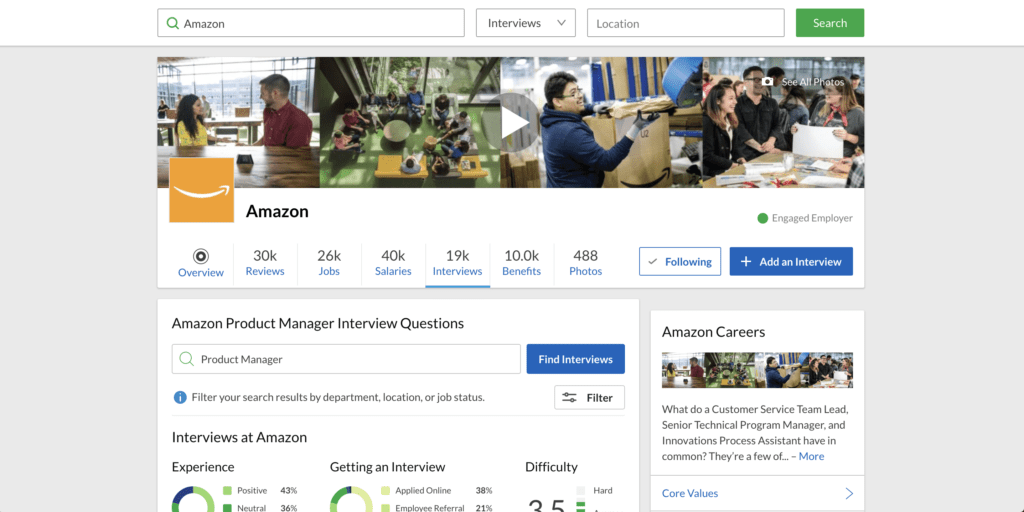 Aside from using Interview School to prep, Glassdoor is also an amazing place to find more question that you can expect to get asked.

Glassdoor offers an "Interviews" section on their website where users can rate their experience interviewing with a specific company. The best part of this section is that users also list some of the questions that they received in their interview. In fact, Interview School uses these reported questions to build out a lot of our interviews!

Paired with the questions, some users even provide the answers they gave during the interview. Keep in mind the users that had offers made and the ones that didn't when assessing their answers to each interview question though!

Reach out to some current Product Managers at Amazon
This tactic can be hit or miss. Doing a quick LinkedIn search, you'll find plenty of current Product Managers working at Amazon. If you have any shared connections or a mutual friend, you should absolutely reach out to them, they will most likely be willing to help. Also, keep an eye out to see if anyone on this list went to the same school as you, these people are most likely willing to help as well.

It's probably not recommended to reach out to someone you have no mutual connections with and no other types of connections; you have to realize they probably have random people hit them up on LinkedIn all the time and might even get a bit annoyed. You may also get lucky and have someone that is happy to help out. Reach out at your own risk!

Search all corners of the internet
Besides the mentioned strategies above, there are plenty of other sites, videos, and resources scattered across the internet. Be sure to put the time and effort to do your research and make sure that you're prepared when going into your upcoming interview.

Good luck!!

Start Practicing Interview Questions Now!
According to Glassdoor, every corporate job attracts 250 applicants on average. Gain an edge over these other applicants by learning from previous interviewees.